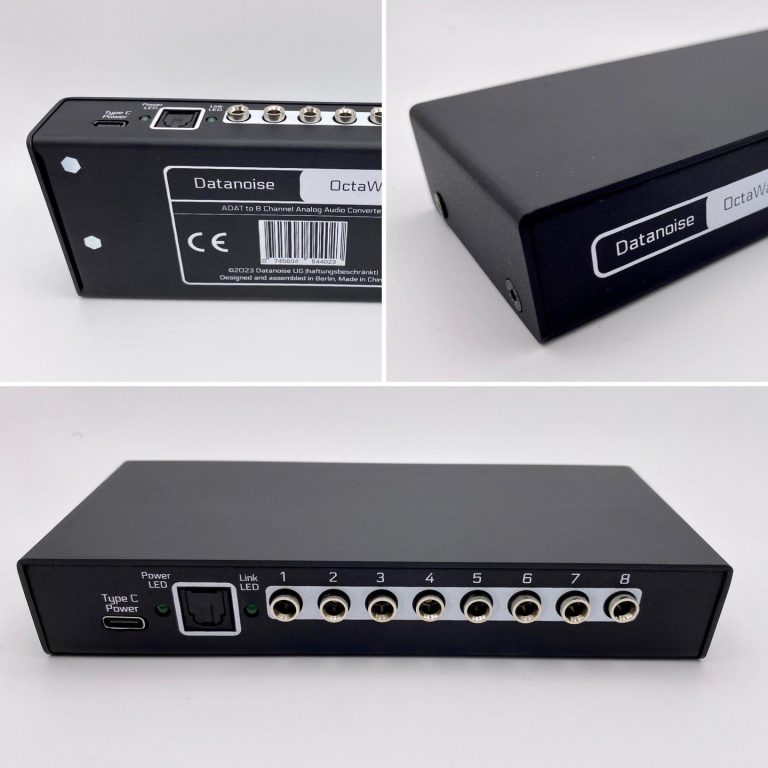 ADAT is a Trademark of Alesis Corporation
OctaWave
Portable 8 Channel ADAT DAC
The OctaWave is a portable ADAT Lightpipe to 8 channel analog audio DAC / converter. It seamlessly integrates with any ADAT components and gives you 8 3.5mm mono jack outputs.
Technical Specifications
ADAT Lightpipe Input (Optical)
USB Type-C for Power Supply (with power filtering)
Low Noise Power Supply for DACs
24-bit Audio at 44.1/48kHz
Low-jitter (< 1.3ns)
-120dB* noise floor typical
112dB* Dynamic Range typical
Linear Frequency Response (0.1dB non-linearity typical)
Power and Link LEDs
8x 3.5mm Jacks (mono, mechanically stereo for more stability) with 2.1V RMS output level, DC-coupled
Compact form factor (140x60x25mm)
Very low (100mA) power consumption
* The actual dynamic range and noise floor depends on the quality of the USB-C power supply.
Usecases
Adding 8 or more outputs (with mutliple OctaWave) to your ADAT setup
USB Audio 8ch Interface setup using MCHstreamer
Up to 32 channels audio with RME Digiface and 4x OctaWave
Live Performance Setups (with FX chains etc.)
Analog Mixing w/ DAW
DJ Setups (a 4 deck setup with 2 stereo outputs each)
Quadrophonic / 5.1 / 7.1 / Surround Sound setups / mixing
Setup instructions
Connect your ADAT output (e.g. from your Audio Interface, such as RME Digiface, MiniDSP MCHstreamer) with an optical cable to the ADAT input of the Octawave
Make sure your Audio Interface is running at 44/48kHz Sample Rate. Sample Rates above 48kHz are not officially supported. Using 96kHz will result in only 4 audio outputs being available due to limitations of ADAT.
Power the OctaWave DAC via USB Type-C. You can use a power bank (make sure it doesn't shut down with too low power consumption), a 500mA USB Power Supply or connect it straigt to your computer. For lowest noise and best performance, we recommend using a brickwall adapter.
Connect your outputs to your gear (mixer, effects, ..)
Control Voltage (CV) Output
The OctaWave has DC-coupled outputs which can be used to send control voltage to Modular Synthesizers. The voltage outputs is around +/- 3.063V DC rail-to-rail. You can offset the voltage in your eurorack system to achieve around 5 octaves tracking or use an attenuverter to scale it to +/- 5v or 0-10v.
Troubleshooting
Link LED is not lit?
– Check if your ADAT output is wired correctly. The port should be glowing red.
– Check if your sample rate is correct
Power LED not lit?
– Check if the Power Supply is connected or if the plug is correctly inserted.
Availability
The OctaWave will be available at Schneidersladen in June / July.